Snacking solutions
MAG'M offers pocket-size versions of our delicious, premium-quality macarons which can be enjoyed any time of day (snack break, dessert...)
Macarons have become a icon within the pâtisserie world and a symbol of French excellence. They have been reinvented as ready-to-use confectionary.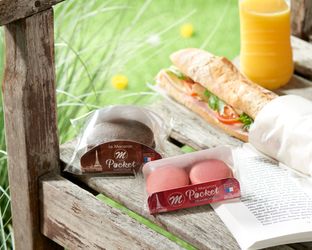 SNACKING SOLUTION bY mag'M
Consumers are succumbing more and more to breakfast snacking, teatime treats, snacks, dinner.
Snacks have become the main way of getting something to eat when you're not at home. It is a well-established part of our eating habits and has transformed the food market.
MAG'M offers a turnkey solution, which can be personalised, in order to develop your turnover and draw in/ secure your clients' and visitors' loyalty.
Would you like to find out more about our Snacking range?
Get in touch with our team using the form on the right >>>